One Click
From Crystal Manager for Sage CRM
One click reports should only have one parameter and that parameter should be an ID field (EG oppo_opportunityid)
Click on the "One Click" button.

A popup window appears.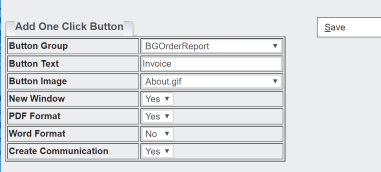 Set the button group you wish to publish your button to.
Be sure to select the correct button group as this control which screen the button appears on!
Set the options that control how the report is opened.
Click "Save" and the button appears on the "One Click" list.

Remember to refresh the CRM metadata to see the button