Add Report
From Crystal Manager for Sage CRM
To add a report navigate to the "Administration" -> "E-mail and Documents" and click on the "Crystal Manager Admin" button.

You will see the "Reports List" screen.

Click on "New"
Select the Crystal Report file that you wish to use and click "Upload File"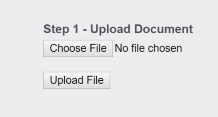 Note: To update a report you just click on "New" and select the report, upload and it will overwrite the report of the same name on the server. Do not proceed with step 2 of the process in this instance.